An electric stair lift is a convenient and economical mobility solution since it provides easy and safe movement for wheelchair users from one floor to another in multi-storied buildings. It is well-suited for indoor and outdoor purposes and can be used in residences as well as commercial establishments.
Electric stair lifts
that are ideal for straight, spiral and curved stairways are available. Therefore, these electric stair lifts for the home can be installed with out making structural alterations for your stairway. Besides, these stair lift models can be installed on either side of the stairway, based on your convenience.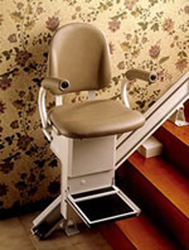 Electric stair lifts are powered by electricity. An important advantage of buying electric stair lifts for the home is that you do not have to worry about charging or replacing the battery. Moreover, these devices require lesser maintenance than battery-powered stair lifts.
Designed with Enhanced Safety Features and User-friendly Controls
To provide comfortable and safe floor to floor access, the various models of electric stair lifts are provided with outstanding safety features and easy-to-use controls such as:
• Obstruction sensors: these automatically stop the lift when it encounters an obstacle blocking the path, thus preventing any damage to the lift and injury to the user.
• Seat belt with positive locking mechanism
• Safety brake
• Swivel seat handle
• Mechanical and electronic braking system
• Constant pressure control switch on armrest
• Remote controls
• Easy-to-use armrest controls
• Flip-up padded armrests
• Adjustable seat height and footrest height
Electric stair lifts also feature folding facility, which allows the lift to be kept folded when not in use. This enables other users to access the stairways more conveniently. Stair chair lifts are also offered with handheld controls to facilitate easy operation for users with restricted hand movement. In order to ensure the user a quiet and smooth ride, electric stair lifts are designed with a hidden gear rack and power cable. If you are installing a stair chair lift for outdoor use, make sure that it has excellent weather-resistant properties.
Electric stair lifts are reasonably priced. When purchasing electric stair lifts, it is essential to analyze the accessibility requirements, the extent of disability of the user, and the configuration of the stairway. In addition, evaluate the different models of electric stair lifts, the safety features provided and prices. Apart from these, also ensure that the dealers offer professional installation, timely inspection and maintenance services. The reliable manufacturers of electric stair lifts include Savaria, ThyssenKrupp Access and Bruno.